Price

RM29.00

Brand
Zeiss
Availability
In Stock
Quantity
Description
Highlight
Overview of ZEISS spectacle cleaning products
ZEISS Lens Cleaning Wipes
The pre-moistened, micro-fine tissue from ZEISS ensures effective and fast spectacle cleaning when you are out and about. Extensive testing by independent institutions (COLTS) show that it has better cleaning performance than ten alternative products - with no scratching or strain to the lens. The wipes have an exceptionally fine structure to ensure exceptionally gentle cleaning of all spectacle lenses, even with high quality coatings. It is pre-moistened with a unique combination of two active agents which are also used for medical equipment cleaning. These harmless agents are free from aggressive cleaning substances and artificial fragrances. And the best thing is that the ZEISS lens cleaning wipes can also be used for cleaning all types of sensitive optical surfaces (e. g. LCD displays, smartphones, tablet PCs, laptops, mobile phones etc.) easily and with no streaks.
Zeiss Lens Wipes , with Alcohol 50pcs
Lens Cleaning Solutions from ZEISS
Tips for gentle spectacle care to ensure a long spectacle lens life
Why is caring for spectacle lenses so important?
High quality spectacle lenses are an investment. A financial investment not only in better vision but also in a better attitude to life and your own safety.

Incorrect spectacle cleaning can cause microscopic scratches - which are initially invisible - on the spectacle lenses. Gradually, the spectacle lens wears down, the potential of the even the best lenses is diminished and vision is ultimately impaired.

Scratches cannot be removed from modern plastic or mineral spectacle lenses. The lenses have to be replaced.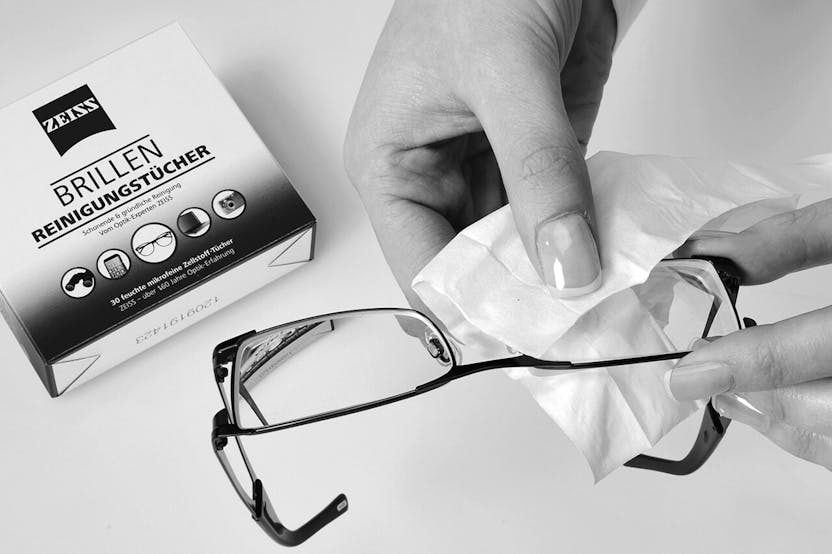 Reviews (1)
view all
back
What's in the box
1 box contain 50 pcs per box